We're back at SICAM to demonstrate the value we bring as an industrial partner.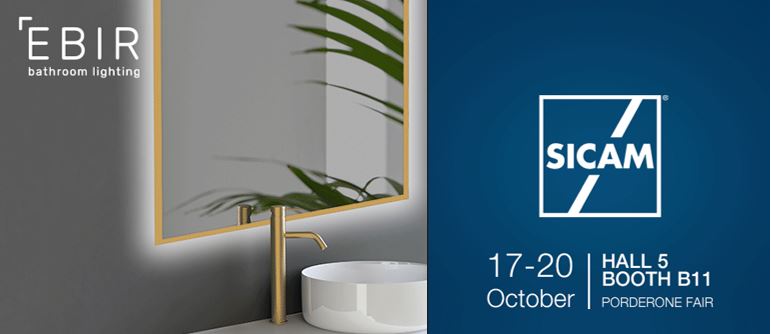 22 June, 2023 -
This year we're returning to SICAM, the flagship international fair for parts, product technology and accessories in the furniture industry.
With the aim of demonstrating the value we bring as an industrial partner when it comes to designing and manufacturing our own lighting systems and developing products that turn bathrooms into truly unique spaces, we will once again be present at this event with our latest proposals. Collections designed to put the finishing touch to the whole bathroom, taking it to the next level as a complete package. LED mirrors have firmly established themselves as an essential complement when it comes to adding decorative value and transmitting well-being in bathroom spaces.
We will present creations with different-shaped metal finishes, screen-prints which make up coloured borders that can be combined with the rest of the bathroom; a range of multifunctional sensors which can be integrated in the mirrors; decorative profiles which disappear when turned on; and lamps that can be perfectly integrated in the mirrors to revamp them. We will also bring with us the latest in the field of innovation such as our new safe-and-easy installation system 'Qlick Install', as well as new and improved lighting systems, which are both more visually appealing and more efficient.
As an integral part of our sustainability policy, we will also show off our replaceable electronic components which enable our mirrors to be repaired, thereby prolonging their service life and reducing emissions.
From the 17th to the 20th of October, we'll be waiting for you at SICAM, Pordenone: Hall 5, Stand B11. If you'd like to schedule an appointment, please do not hesitate to get in touch.
If you'd like to meet us or make an appointment, please do not hesitate to get in touch.