Metallic profiles – an unstoppable upward trend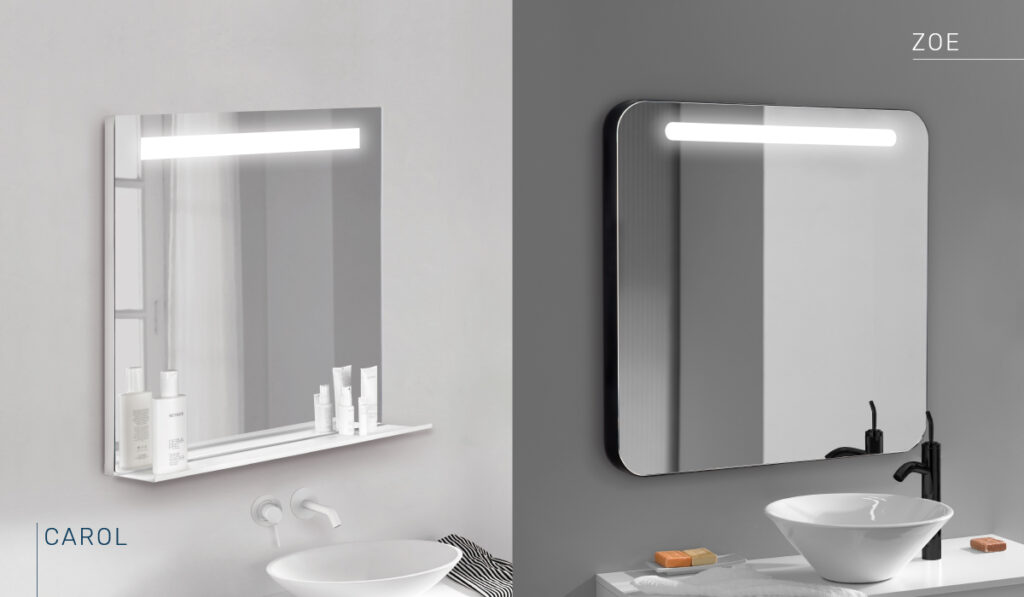 31 August, 2021 -
Decorative metallic finishes fuse all the stylish eclecticism of the 1970s with the most industrial aesthetic of recent years.
A cocktail both elegant and distinctive; and yet, knowing how to play with and combine these elements is key to avoiding oversaturation.
The latest trends in bathroom decoration encourage the selection of elements with metallic profiles; whether it be furniture, mirrors, taps, or even porcelain finishes for surfaces or walls. As for the colours, in addition to black, which remains the king par excellence, others such as gold and white are making a comeback. Both shades feature prominently in the latest proposals of the main brands and decoration studios.
This metallic style is exactly what our CAROL and ZOE mirrors inspire, allowing them to be perfectly combined with the other elements in the bathroom. Both products have direct functional lighting, with an upper window that projects light directly onto the user.
The CAROL model is characterised by its modern design and comes with an integrated shelf to save space in the washbasin area. Meanwhile, the ZOE model sets itself apart with its decorative metallic perimeter border.
Both models come with metallic borders available in three finishes: black, gold and white − ideal to be combined with other elements.
Without a doubt, these two models of mirrors are ideal for taking centre stage in a bathroom that is equally elegant and functional.